While South-Africa has the elephant, rhino, lion, leopard and the buffalo, in the Netherlands we have our own 'Big Five': the red deer, the roe, the wild pig, the mouflon and the fallow deer.
During this hike you will learn all about the beautiful nature reserve, the Veluwe, and its inhabitants. The Veluwe is a forest-rich ridge of hills (1100 km2) in the province of Gelderland and features a variety of landscapes, including woodland, heath, some small lakes and Europe's largest sand drifts.
FOR WHOM
A must for nature lovers!
Hikers
Interested in Dutch Wildlife
PROGRAM
| Time | Activity |
| --- | --- |
| | Meet and greet at Emmy's Boshut with coffee/tea and home-made apple cake |
| | Spotting wildlife during the hike |
| 2,5 hrs | End of tour |
Description of the tour: Safari on the Veluwe
Tour by foot • 2.5 hours • Group size 5-12 • €35.00 pp*
*Up to 2 persons (total price) – €100.00
*Up to 4 persons (total price) – €150.00
The tour begins in Emmy's Boshut, a Swedish-style wooden hut, in the middle of the Veluwe, near Kootwijk. After an hospitable welcome accompanied by coffee or tea and delicious, warm home-made apple cake, Emmy will take you for a hike. During the trek, Emmy will talk about the many fascinating and remarkable facets of the surrounding nature and in particular, the wildlife. You will enjoy the laid back ambiance of nature while strolling through the forest. A visit to this reserve is a must for nature lovers!
What Do You Get
To see deer in their natural habitat
To enjoy and relax in a healthy environment
Coffee/tea and home-made apple cake
Better understanding of Dutch nature
Visit to the beautiful nature reserve the Veluwe
About Emmy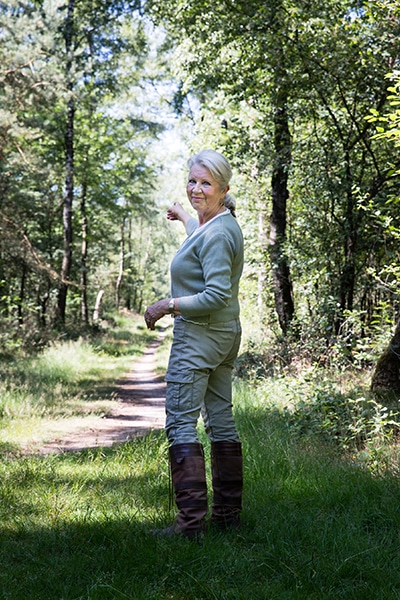 Throughout my childhood, I spent countless hours with my father roaming through the woods, learning about the surroundings, the nature and the wildlife. Later on, I became a nature guide, and took several courses on Wildlife and Nature, specializing in deer, roe, wild boar and fallow deer. I have the greatest pleasure in sharing this information and knowledge with the groups I take on this journey. Whether corporate groups or families, I have seen how communication with nature can connect with interpersonal and work relationships. Standing eye to eye with wildlife is magical!
The more time you spend outdoors, the richer a person you will become
Please click on the Want to personalize this offer? if you are interested in this option.