Are you spending your holidays this year in the Netherlands? If so, are you looking to do something special? A Dutch Experience is organizing a Christmas dinner on Saturday December the 22nd and you're invited! You'll have the opportunity to join in on a typical Dutch Christmas feast in a home restaurant located in Oud-Zuid, a lovely neighborhood in Amsterdam. Here the intimacy of home dining pairs with all the advantages of a professional restaurant. Our food historian and writer, Charlotte Kleyn, will dive into the food history of the Netherlands and the Dutch Christmas tradition during the meal as your personal host.
About the chef Adrienne
Adrienne Eisma is an accomplished gourmet chef with over 15 years of international cooking experience. She has worked and trained in top class restaurants such as George Blanc in Vonnas (3 stars), Toscanini and Halvemaan in Amsterdam (1 star), Karel V in Utrecht (1 star), Le Dauphin in Paris and I Pupi in Palermo. In 2008 Adrienne opened up her beautiful 'old style renovated' house and kitchen for Private Dining in Amsterdam.
Description of the evening
Dinner • 18:30 – 23:00 pm • Group size (max 32) • €107,00 pp (excl. 21% VAT)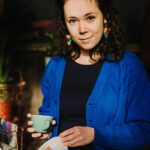 We welcome you into this unique experience with a glass of prosecco and a variety of appetizers, after which we will serve you a 4-course Christmas menu with matching wines, followed by coffee, tea and sweets. During dinner, Charlotte will cover the food history of the Dutch, sharing what makes the Christmas tradition so special in this country. By the end of the evening, you will not only leave with food for the body, but also with food for the mind and soul.